FitPAWS® K9FITbone™ is a wonderfully versatile piece of kit used to progress from foundation to advanced levels.
Instability training is a fun way to bond with your dog, teach them a new behaviour and strengthen the core ~ which is the powerhouse of your dog's body. Fun fitness training with the K9FITbone™ is also a great way to reduce stress, burn excess calories, and it's a healthy "job" for your dog
Suitable for full body conditioning:
Core and Limb Strength
Improve Coordination
Better Joint Health
Create a Stronger Bond
Reduce Behaviour Challenges
Senior Strengthening
Puppy Confidence Building
Great for All Dogs
The Patented K9FITbone™ DOG BALANCE BONE features:
23"x10" Balance Platform (pump included)
Superior Gripping – Made For Dogs
Sensory Bumps Provide Neural Stimulation
CanineGym® Training Cards ( Detailed Exercise Guidelines for Targeted Balance and Strength Training)
Dimensions: 23″ length, 11.4″ width and 4″ height
Example of Training Card: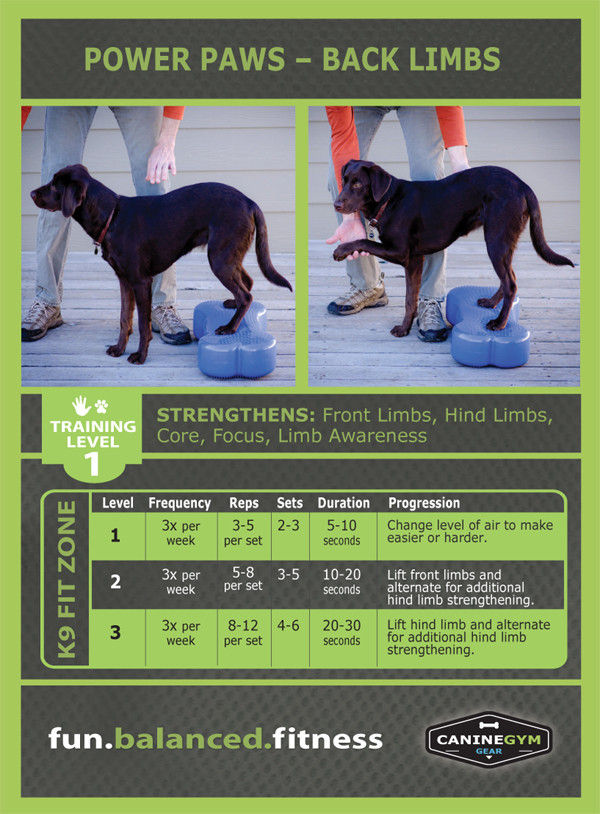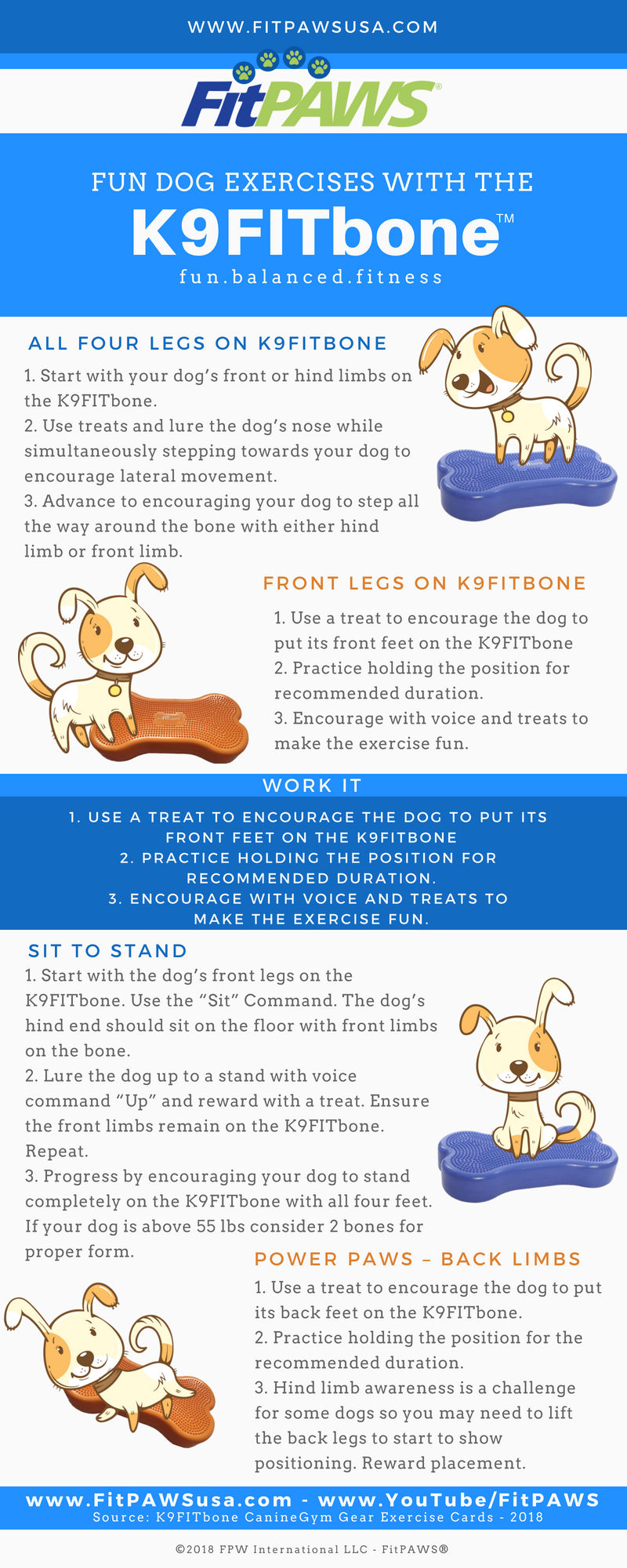 About FitPAWS®
AT FITPAWS®, we admire dogs and people who work with dogs. We admire the passion, the love, the hard work, the devotion, the belief that dogs will give their best…and that we can also give OUR best to the dogs.
POWER TO THE DOG. THE CONFIDENCE YOUR DOG GETS FROM EXERCISE MAKES THEM A HAPPY, WELL BEHAVED DOG! IT DRIVES US to develop safe canine specific products, programs and a community that wants to do more for our furry friends. Investing in dogs and their people does matter. There is value in knowing that your investments in FitPAWS go back to improving product quality, new product design, supporting canine events, businesses, athletes and developing educational programs aimed at improving the way we understand canine fitness, conditioning and rehabilitation.
In 2010, FitPAWS launched for the canine market after we discovered canine rehabilitation professionals to condition and rehabilitate dogs. And since dogs are different from humans, we researched and developed a new product line specifically designed for canines. Professional-grade heavy-duty materials were spec'd and formulated into products to meet dog-specific standards.
GIVE MORE. DO MORE.  To give power to the dog, to give more to our dogs we must create GREAT for our dogs. Pay attention to what matters: design specifically to fit a dog's body, work with experts, be an advocate for canine health, support and create educational programs, help dogs live longer, construct quality products, be concerned about safety and continually elevate service for our customers. Rooted in human fitness, but not stuck there, we carry the torch for our four-legged friends to find great.
WE WANT TO BE a canine fitness company that our customers are proud to support. Not because we want to sell more products, or because we aspire to canine fitness world domination (ok, maybe we have discussed it : ); but because our goal is to do right for the dogs with products that are well made, designed with dogs in mind and sold at a price that delivers value to our customers. When you purchase from FitPAWS, not only do you get great products, but you get a support team that is prepared to help you and your dog.